"What a night!" Husbands of two lifelong friends celebrating their 40th birthdays had the ingenious idea of throwing a Moroccan themed party for their special ladies. The party pulled out all the stops creating an atmosphere full of fun and laughter, complete with a live belly dancer and DJ paired with Chef Francesco's masterful cuisine.
The Food
Borrowing from his experience with Middle Eastern cuisine, Chef Francesco dove deep into researching what the Moroccan style is with its complexity of spices featuring paprika, cumin and turmeric, and the result was fantastic! The Moroccan lamb meatballs with cucumber and tomato sauce, Chicken tahini, carrot salad, saffron rice and chickpea salad were so flavorful and creatively crafted that guests and hosts could hardly believe it! And of course no meal is complete without a sweet morsel to tie it all together, which Chef Francesco delivered in a treat he called a "Moroccan kiss" that featured a meringue with rose flavored cream. Proving again that this 3-star Michelin Chef is suited for any challenge!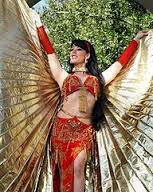 Planning the Party
Everything was perfect and everyone enjoyed a memorable night that will not soon be forgotten, but what truly set this night apart was Casetta Catering's manager, Rebekah, whose tireless work behind the scenes smoothed every wrinkle before it came to the attention of the hosts. Whether helping the belly dancer chose a better location for her performance, fixing a speaker system, or making sure that clean up during the party kept everything looking neat, Casetta Catering's ability to deliver not just food, but an experience truly sets them apart. So when considering who to go with for your Houston catering event let Casetta Catering make your celebration special and care free!